---
Easy to Apply
Social Media Posts
For REALTORS® that are

Find stylish design templates, insert personalized captions, and schedule to your social media platforms ALL in the click of a button.
---
FEATURES
Style It. Copy It. Post It.
Join the most PERSONALIZED marketing platform available to REALTORS® and mortgage professionals today! Curated a MONTH in advance so you can spend more time creating connections and closing deals!
Custom Content Collections
A cohesive brand starts with a stylish Content Collection which is designed with different colors, fonts and FREE Canva elements. Our templates are one-of-kind and fully customizable with a FREE Canva account.
INTEGRATIONS
Partnered with all major platforms
Connect your social profiles and simply "Copy and Post" immediately or schedule in advance by using our user-friendly content calendar.
Of the most personalized marketing dashboard ever made for real estate professionals, mortgage lenders and property managers.
Standard Subscription
---
No Contracts or Commitments, Cancel Anytime.

New Content Curated Monthly

Annual Discounts Available
Gain access to our dashboard and discover personalized

Get more clients to the closing table with Copy and Post! With creative, engaging and effective marketing to achieve your highest goals. Over 30 different categories including:
Are there any Contracts or Commitments?
Once you are in, you will not want to leave! But just in case you change your mind, we have zero long-term contracts and feel free to cancel anytime. Your subscription will automatically renew at the end of each billing period based on the plan you select.
How are we different from others?
We are agents like you! We know what you are looking for and have created a user-friendly dashboard that's above the rest. We offer content collections so that your marketing doesn't look like every agent who joins us. Plus, add a personal touch with personalized captions and hashtags. We have dark mode when you work late, save your social to decide on later or schedule immediately using our content calendar. Should we keep going?
Everyone receives a 14-day free trial, discounts for Annual Plans. Special discounts will be sent out periodically via email or on our social channels. Contact us at Hello@copyandpost.com for large teams or multi-license discounts. Happy to accommodate!
The future is bright! We will be offering this feature, along with social media management so that not only are we posting for you but engaging and growing your audience as well. But for now… we make it easy for you to "Copy and Post" content yourself or schedule out future posts and our software will publish it on the social profiles of your choice.
Can I use Copy and Post for another industry besides Real Estate?
Great Question! Besides REALTORS®, we have mortgage lenders, appraisal companies and property managers who also use our content on a regular basis. We do have several categories of content that can suit any industry like holidays, this or that's, and motivational quotes.
Does Copy and Post give back?
Yes!! We love supporting local organizations which is why a portion of each subscription goes back to the communities we serve. If you know of a need, please reach out to us through the contact page on our website.
Do you offer more than just Social Media Content?
Oh, you mean like pop-by's, listing presentations and open house flyers? Or are you looking for newsletters, email signatures or business cards? Why, yes! Yes, we do have all of those and more!!! Join today!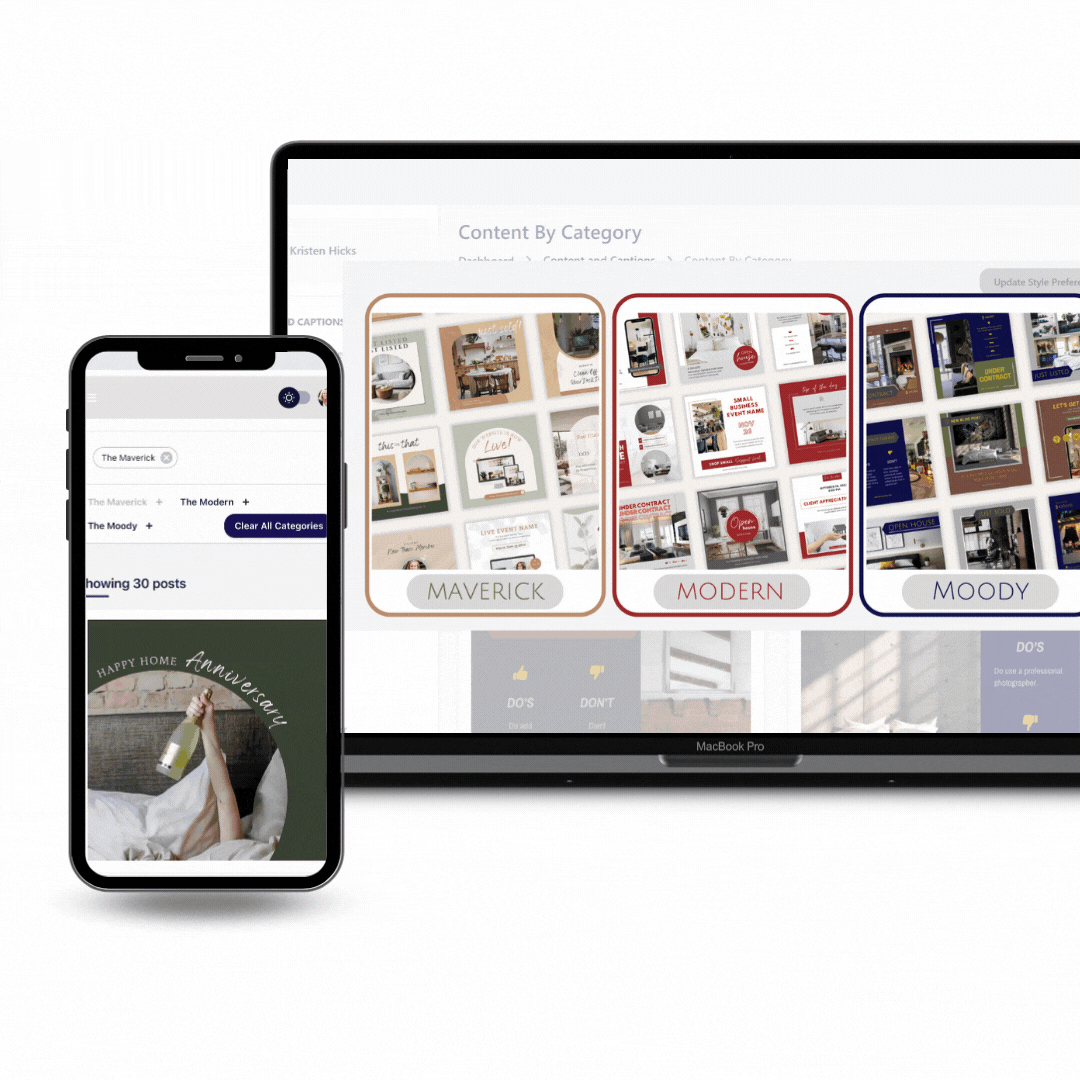 Compatible on Desktop and Mobile
Sit and schedule on a desktop or work from your phone when on the go.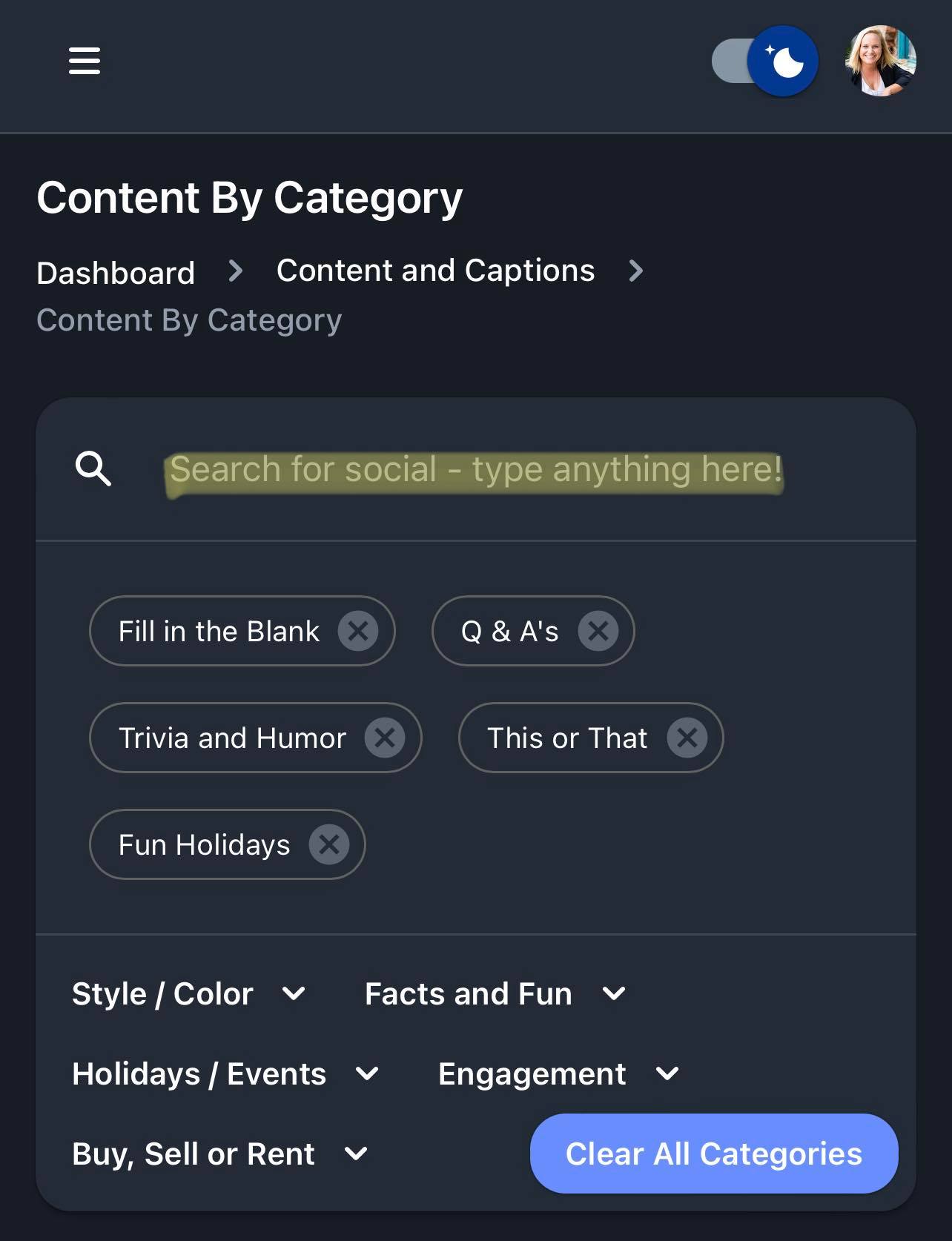 Keyword Search
Looking for something specific? Type away and post today!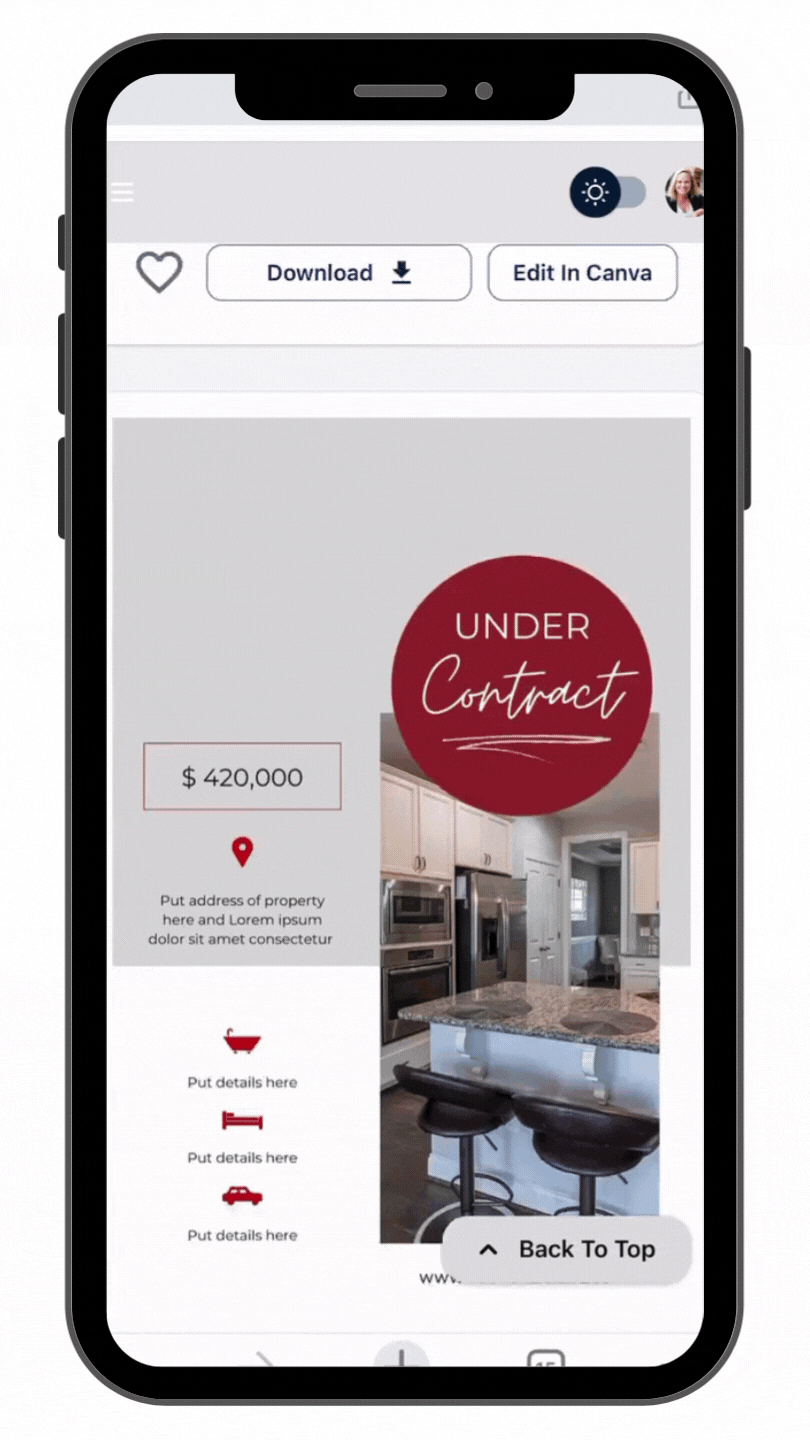 IG & FB Stories
Stylish and engaging stories that connect with your audience and help close more deals.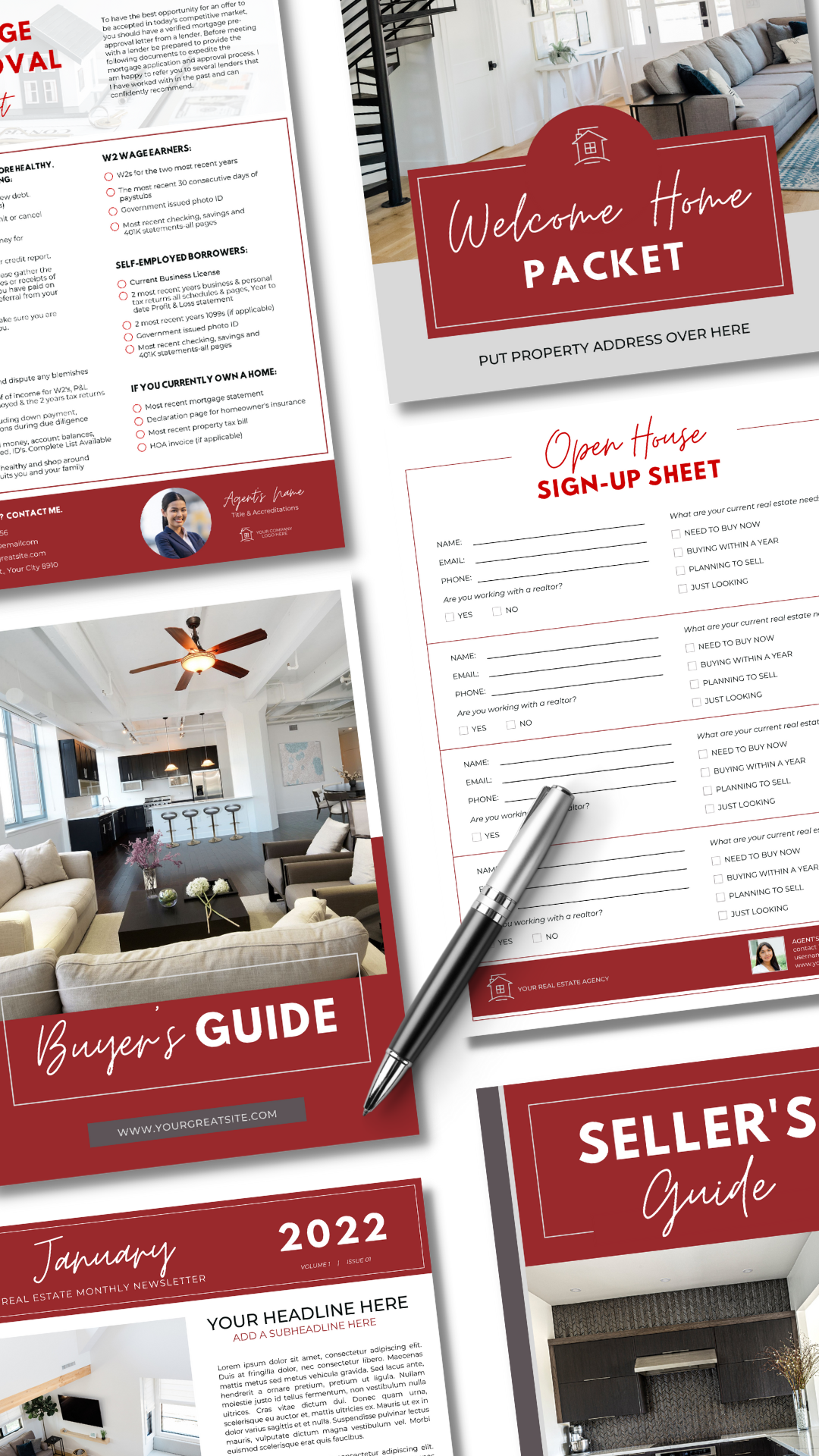 Templates and Downloads
Select from flyers, sign-up sheets, newsletters, checklist & more!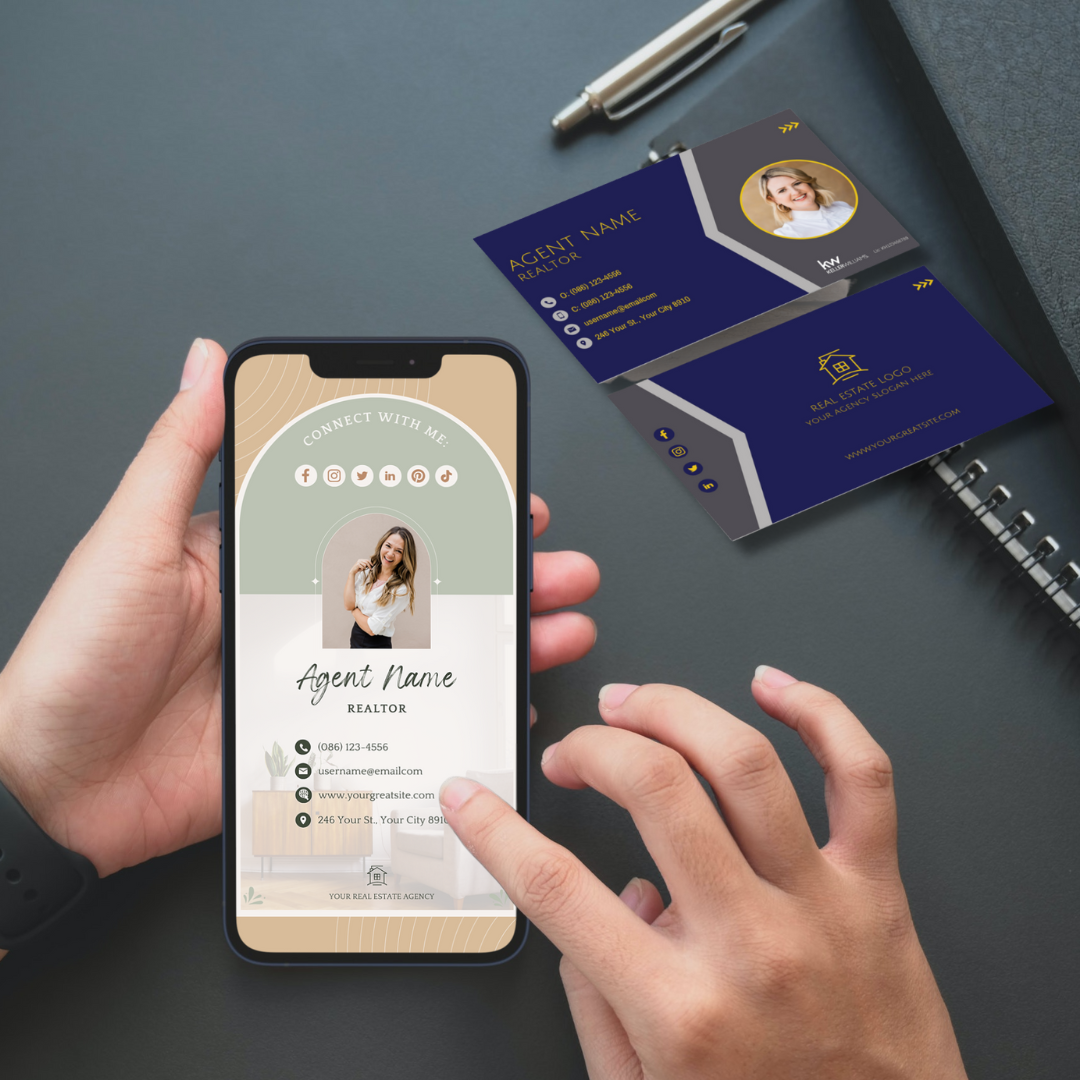 Business Cards
Select from either digital or printable templates and easily edit inside of Canva.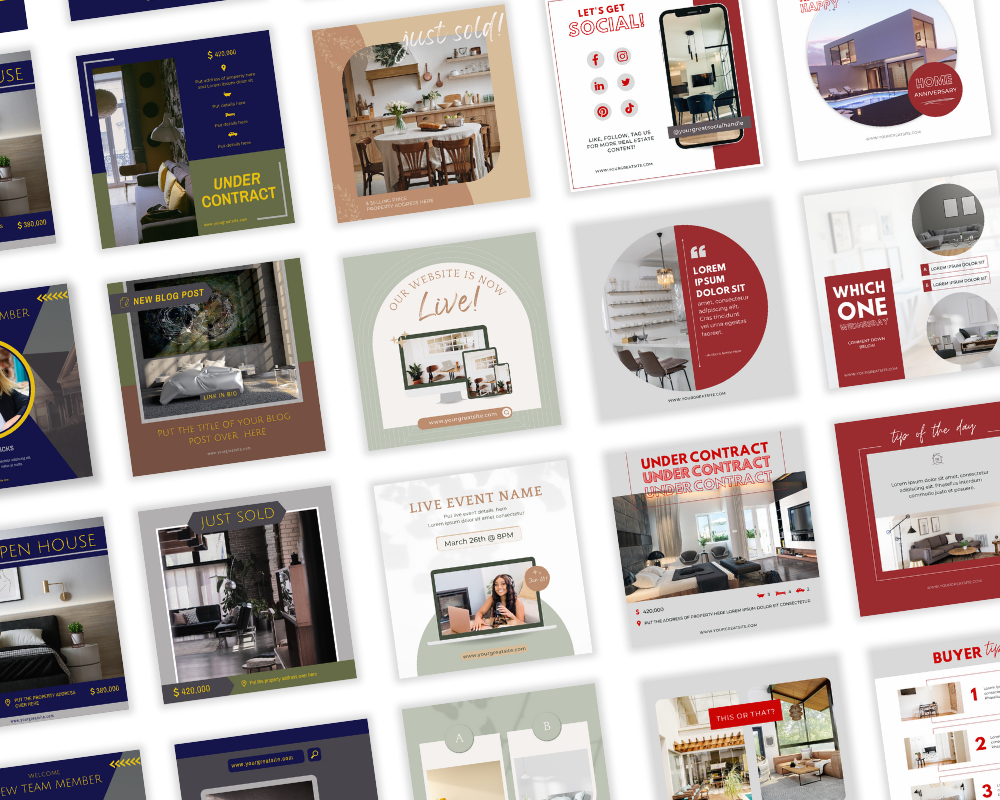 100's of Social Media Post
New Content loaded on the 1st of every month! View all collections and a month in advance with editable links to customize with CANVA!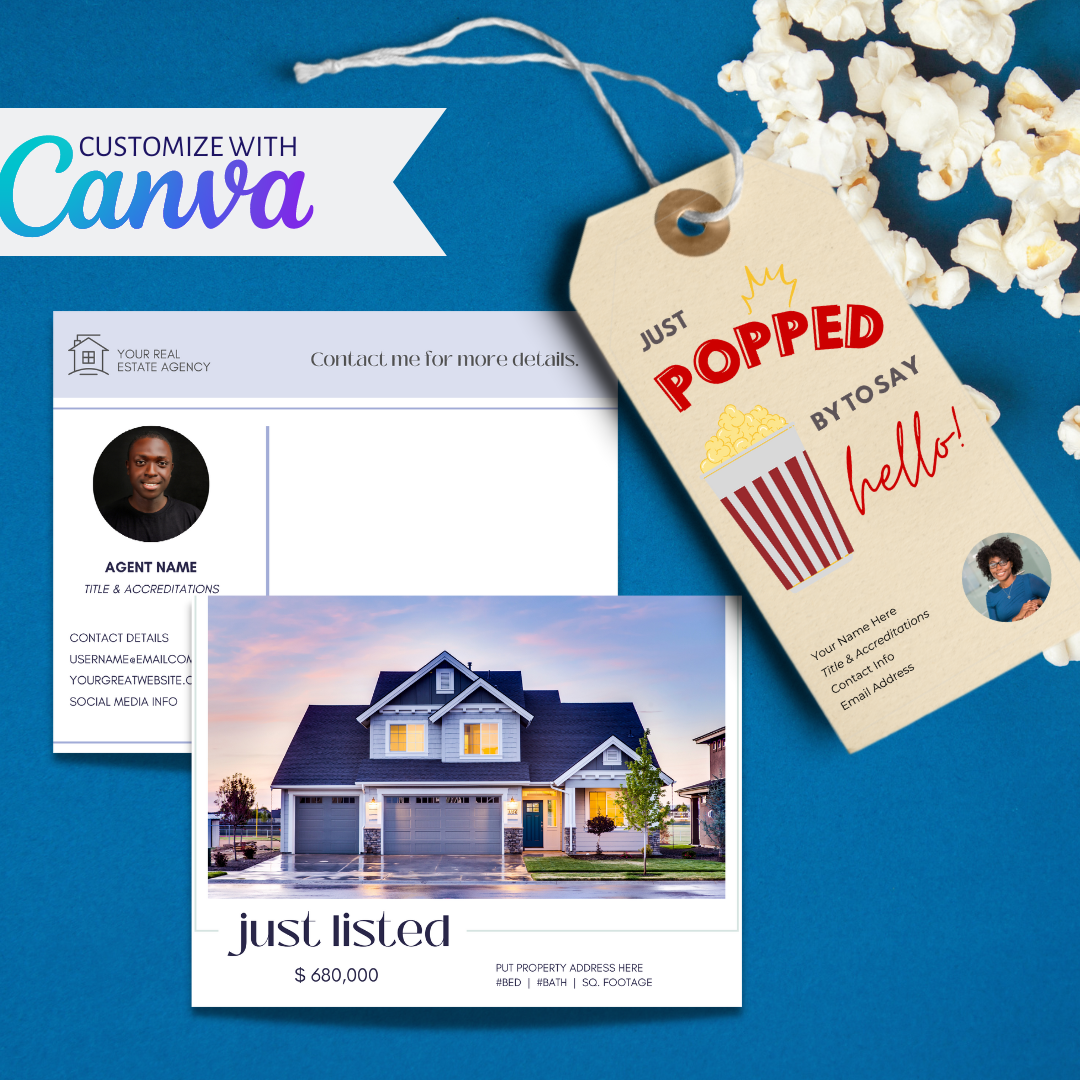 Postcards & Pop-bys
Connect with future and past clients with our creative postcards and pop-bys.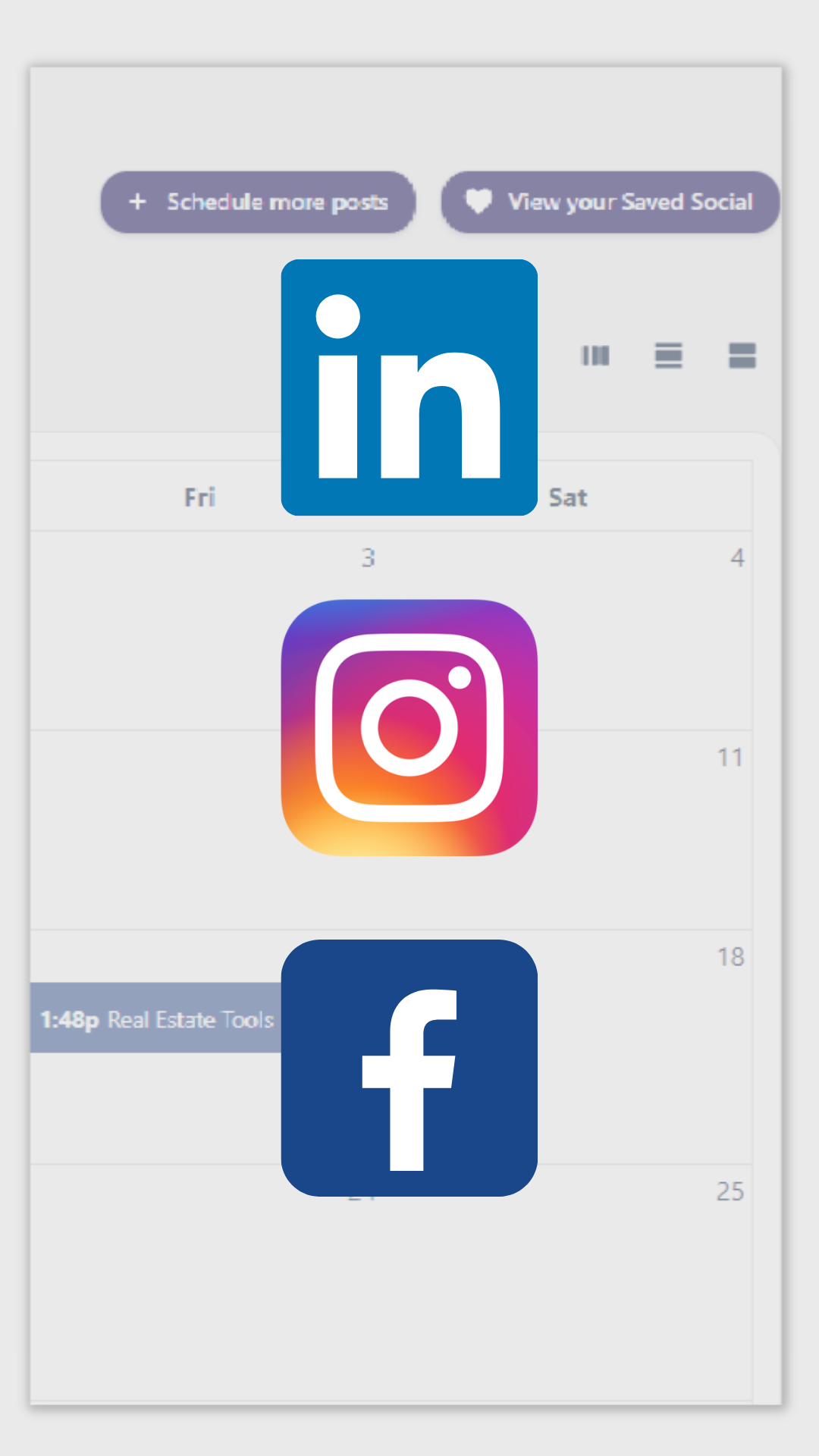 Content Calendar
Link your social profiles and schedule ahead with our advanced content calendar.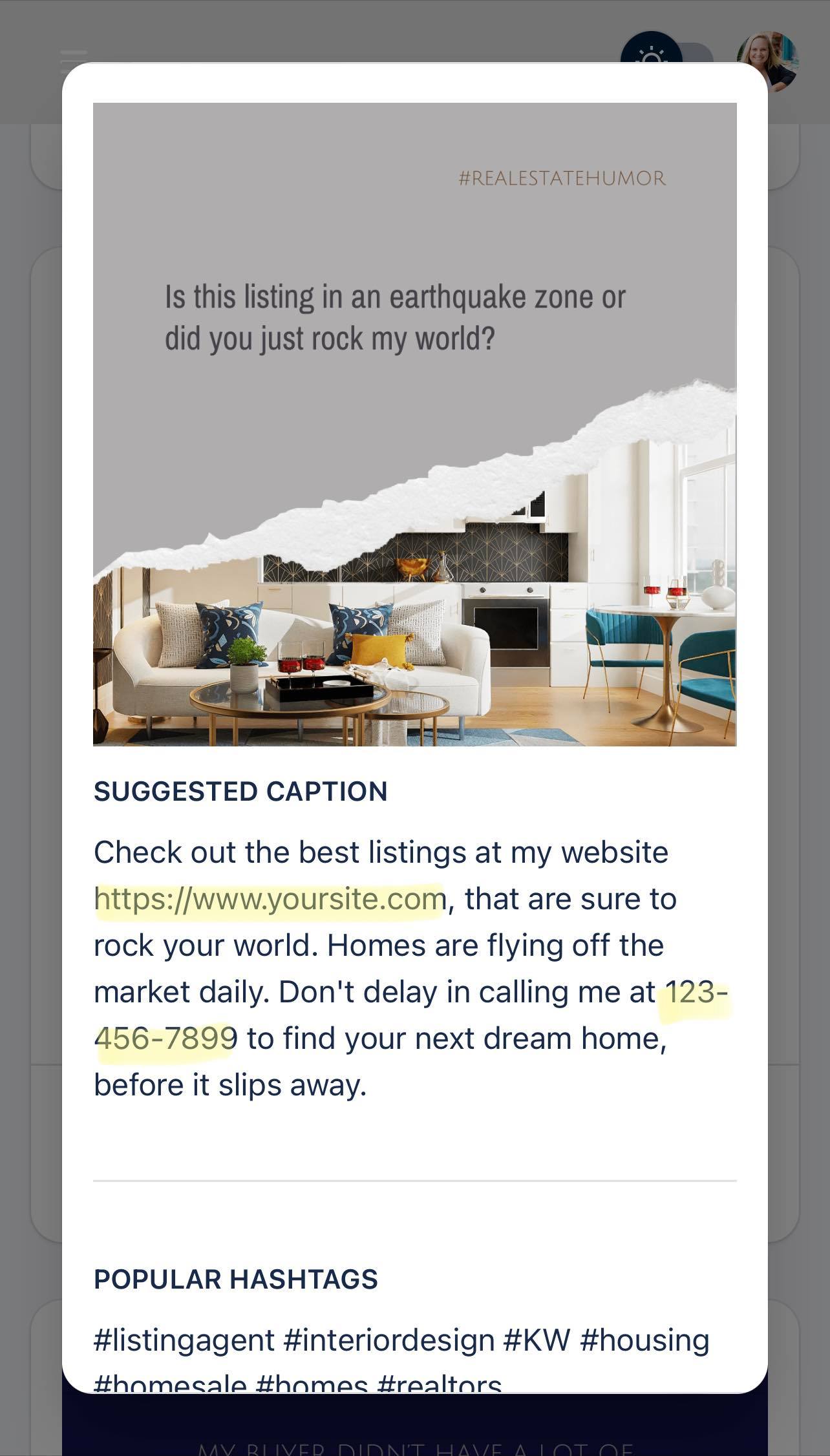 Personalized Captions
Custom-tailored captions and lead generating, specifically to you.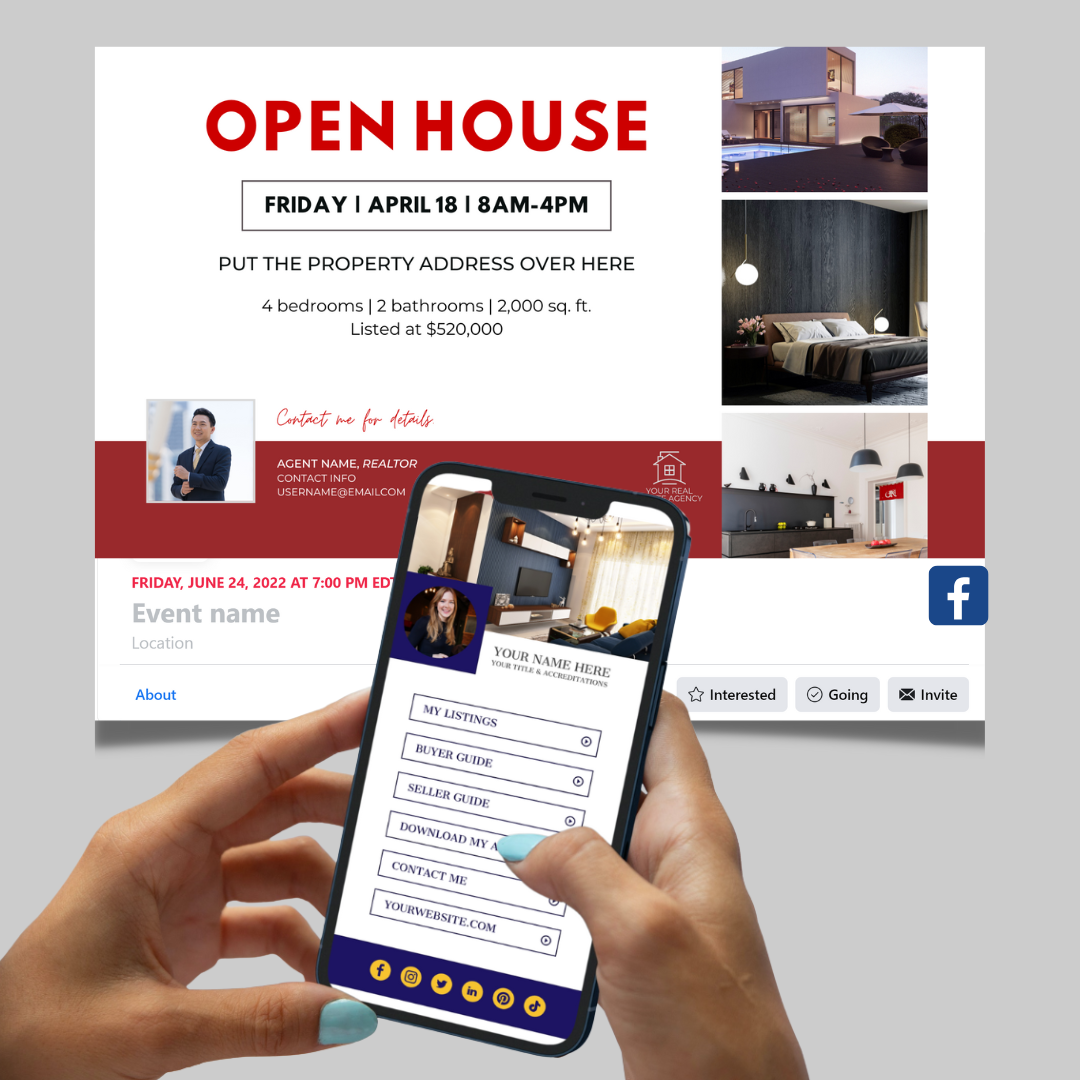 Social-By-Size
Including Facebook cover & events, Link-in-Bio templates, Instagram Highlight covers and more!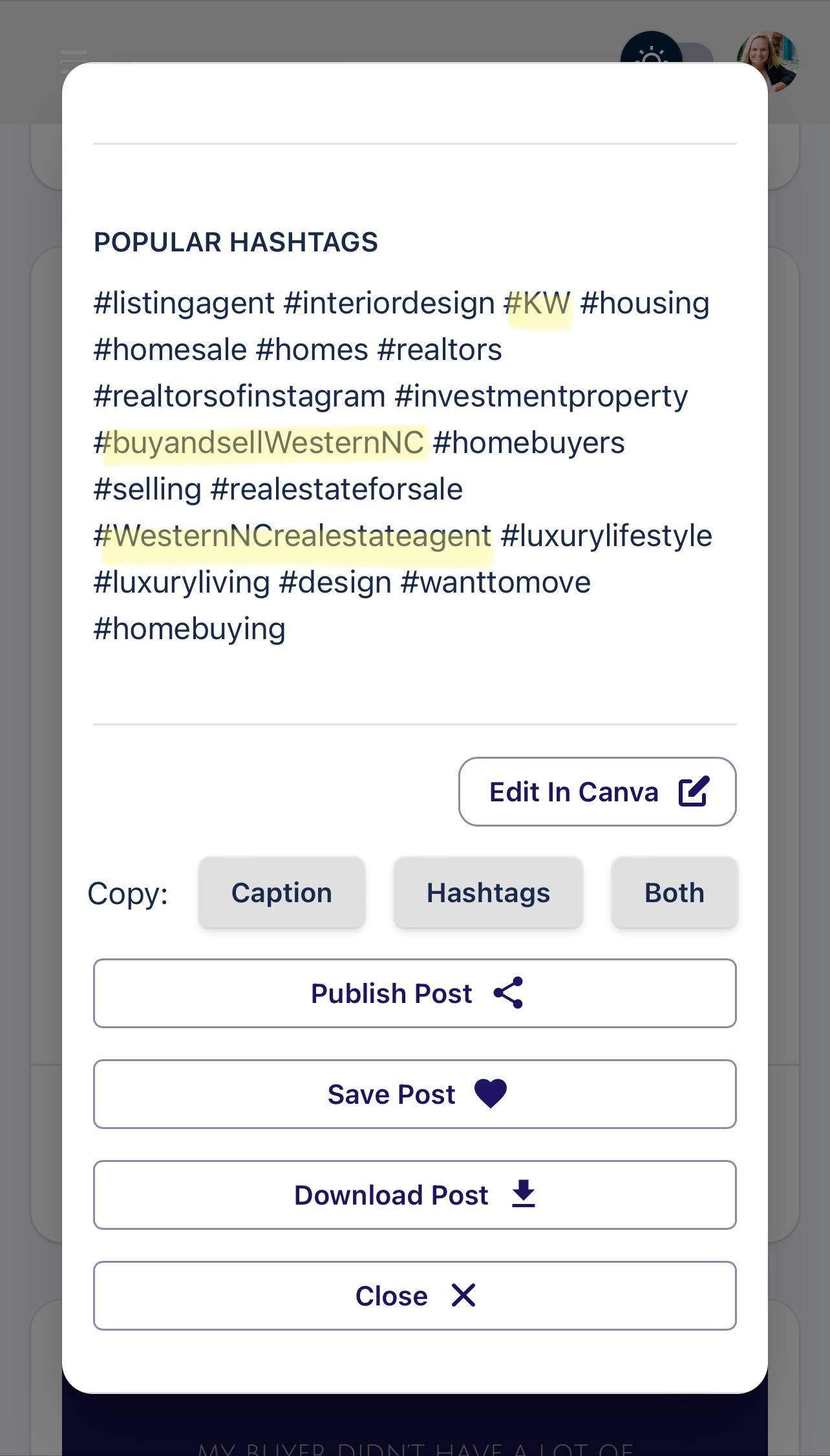 Personalized Hashtags
Reach new clients in your area with local hashtags that are specific to each user.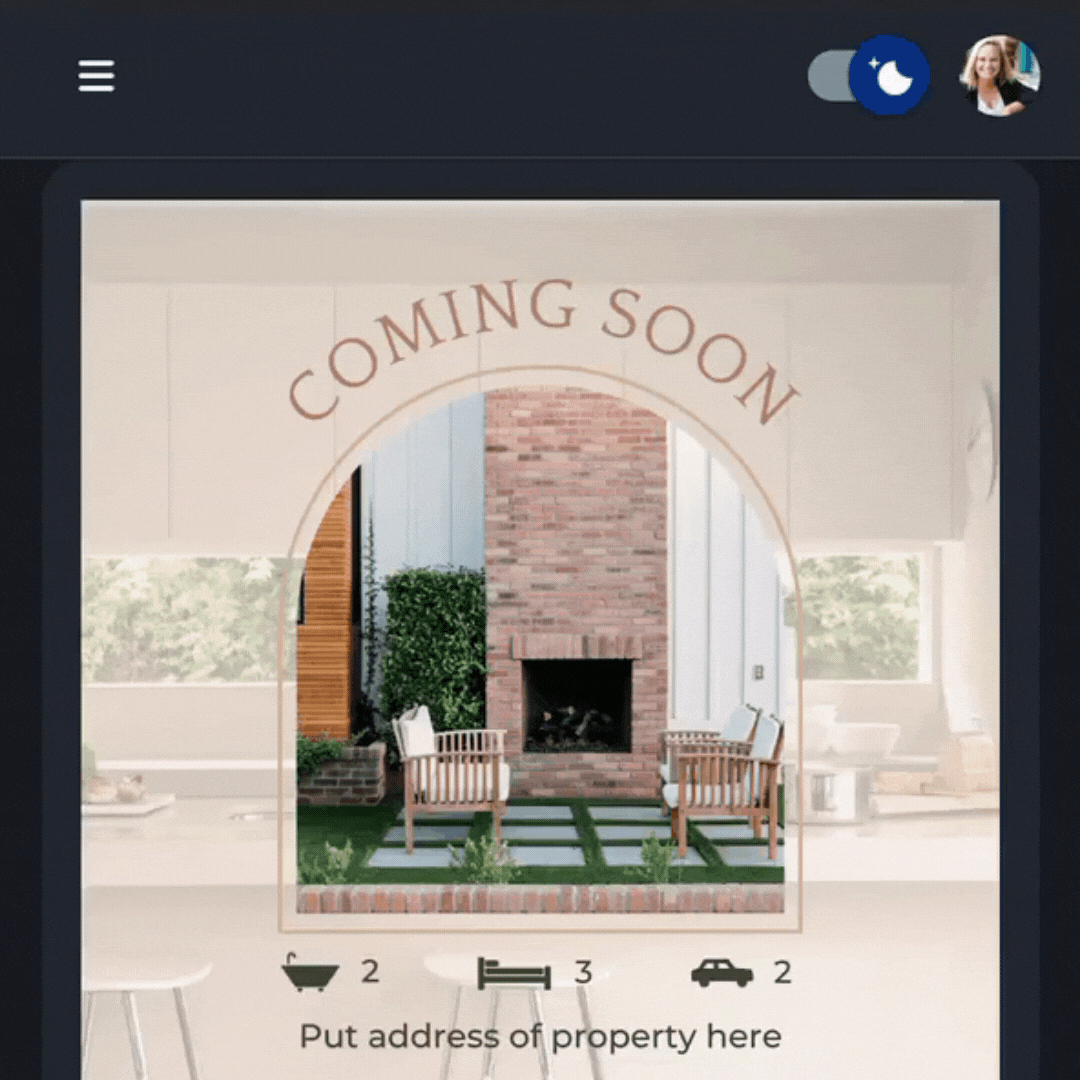 Dark Mode
Working late? Toggle on Dark Mode to reduce eye strain.